Thursday, March 30, 2006 by Mariskova
Okay, I'm back, officially. It's really good to be back home. Did anyone miss me? :) Sorry for the late update. I do miss you all, really!
Baru sekarang gue sempat nulis lagi. Not only I hadn't recovered from the sore muscles resulted from all the walks during the trip, but I also had to sort out the photos I'm going to show here. If I didn't do that (choosing which photos to put here), you'd suffer from having to look at one thousand something photos I've got. But, if you prefer to do that (looking at one thousand something photos), let me know...
Now, I heard or read some of you shout: where have you been? For one thing: I wasn't having a second honeymoon. Really! Although it'd be nice to have one here...
Okay, we've been to the Kansai part of Japan. A bit in the lower part of Tokyo. 3-4 hours ride by Shinkansen, 6 hours by bus, forever on foot.
There is Kobe, for a start, and then Himeji, Nara, and all over Kyoto. And yes, I'm going to tell you all about our trip and I'm going to show you (not) all of our photos, but you're gonna have to click
here
for that (
published soon
). Here, I'll only tell/show you the side dish :)
The only and ultimate reason why we had this trip a.k.a vacation
Remember when I wrote Papap was going out of town for a seminar? Well, he went to Kobe for a week. Business thing. No, let me rephrase that: School thing.
So, he thought why didn't Hikari and I join him in Kobe and have a look at the other cities around Kobe? The time was perfect. It was decided then.
Papap went to Kobe first, leaving Hikari and me alone for a week.
Of course the two of us (almost) went
kablooey
, and even now I still wonder how we could survive. How Hikari could survive this hysterical-nonsensed mother, and how I could survive my high-pitched-almost-like-a-sirene son.
A week later, Hikari and I did the trip to Kobe, the two of us (only). We went there by Shinkansen, from Honjo to Tokyo and then from Tokyo to Kobe. It would be a really nice Shinkansen trip,
if only
we didn't miss the second train from Tokyo to Kobe!!!
Alone, with a 3-year-old kid who constantly begged, in a city where the universal alphabet is not popular and English speaker is a total alien, at a station with more than 20 platforms, with people who think 'procedure' is cute...
The short version: the Honjo-Tokyo train was 5 minutes behind schedule (Why in the hell did they choose that day to be late while they are usually precise till the seconds, I don't know???). 5 minutes, so what? You'd probably say that.
Well, that 5 minutes reduced my 13-minute transfer time from Honjo-Tokyo train to Tokyo-Kobe train, while I had to get down the stairs of the first platform (P20), ran to the ticket gate, got out of it, ran to the second ticket gate, got in to that, ran up to the next platform, and searched for my train.
At home, I thought, okay, I was 100% prepared for this transfer moment: earlier, I was equipped with the number of my next platform (P19, from the internet), the number and name of my train, and so on.
Problem
: the number of the platform and the number of the train were wrong! It took me
four station officers
to go to the right gate (the first officer asked me to go the 2nd, the 2nd asked me to go to the 3rd, and so forth). I finally arrived at platform 19 where I was told to go, and was relieved because I still had 1 minute.
Krinnnngggg!
Wrong! The passengers told me I was in the wrong platform!
I asked another officer who asked another officer who asked another
, and finally a
cleaning service man
told me to go to P17. I ran down the stairs of P19, practically dragging Hikari, ran up the stairs of P17, arrived there, panting, and again asked another officer who -you know- asked me to ask another one, and found out P17 was also wrong!
Then, out of pity, an old man told me to go to P16. I went there, and met this nice train conductor who was finally able to speak English and able to explain to me that my train was already left...
Next, he apologized to me for my inconvenience (yeah, right), calmed me down, watched my shaking hands and panicked face, and then informed me -without so much of other procedures- to take his train (which also went to Kobe). The problem was I had to sit in the non-reserved car (I had a reserved ticket) which at that time was full. Another problem was I was standing outside car# 16 WHILE the non-reserved car were car#1 and #2, and I only had one minute to run from car16 to car1!
Hikari and I ran as fast as we could, I dragged him, I carried him, and finally we were there in car1. Again another problem: no empty seats! Hikari was crying, tired from all the running down and up, but I couldn't find any seat. Finally, two men took pity on us and gave in their seats to us. There, I felt like crying, but No, Hikari already cried.
Anyway, thank You, God, and thank you, guys. You, guys, give meaning to the word: unselfishness.
Okay, Now, Where'd We Go?
Like I said before, first went to Kobe. Kobe was our first 'homebase' for three days. From Kobe, we traveled to Himeji and then to Nara. After that, we moved our 'base' to Kyoto, and stayed there for another three days. While we were there (Kobe and Kyoto), we had a small reunion with Papap's friends: Tante Esti, Om Murdhi (who I found out later was my senior in junior high... well, well, the world is indeed small), and then there were Om Puguh, Om Imtihan, and Om Widi). Thank you, guys, a lot, for making time to meet us despite all the stress and deadlines that all of you were facing.
When we arrived in Kobe, the wind was chilly. Gosh, Kobe was colder than I thought. I was really miserable on the first day, but the following days, everything became nicer and nicer. The only thing I missed there is MY CAR! Whew, for 7 days we walked around in 4 cities, and if we counted those kilometers, I'm sure we'd walked to the moon!
Port of
Kobe
, at night: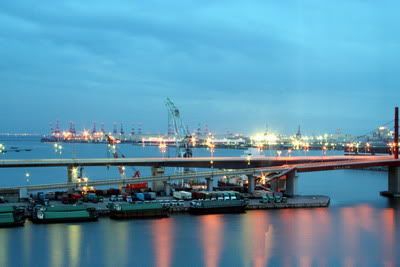 + Kobe is now a glittering city. Relatively more shining (and new) compared to Tokyo. There is no sign of the city wreck, except for the monuments that are kept to remind people of the
1995 Earthquake
.
Himeji
, The Himeji Castle: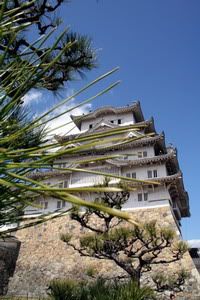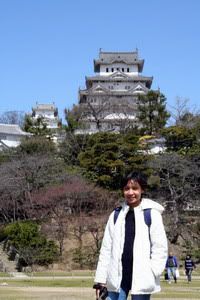 + Himeji Castle is nicknamed "White Heron" Castle because of its white walls which are covered with white plaster. The white color is made from seashells. Himeji Castle is well-known for the huge main tower (consisted of five floors), and also the highly effective and complicated defensive design, which is just like a maze. Himeji Castle has kept its original form for nearly 400 years.
Nara
, Todaiji Temple: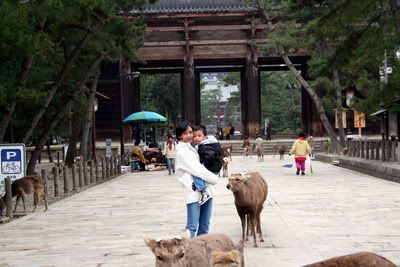 +Todaiji means "a large temple to the east (of the capital)". The temple is indeed very big, and it is famous for a very big Buddha statue (a Great Buddha cast in bronze) housed in the Daibutsu Den Building at the center of the Todaiji. The statue was 14.9 m high and the total height including the pedestal was 17 m. Workers mobilized for the construction of the temple numbered as many as 1,665,000 man-days!
For Hikari himself, the fact that wild deer can freely walk around the temple and its surrounding is more exciting than the temple itself.
Kyoto
, the whole city: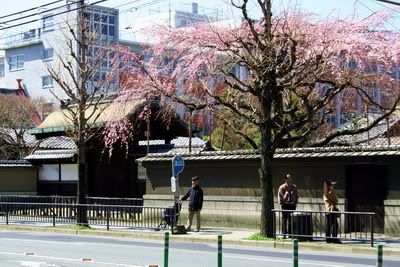 + Papap, in front of an old house next to our hotel. Our hotel is exactly in front of the Kyoto Imperial Palace.
Kyoto,
Imperial Palace
: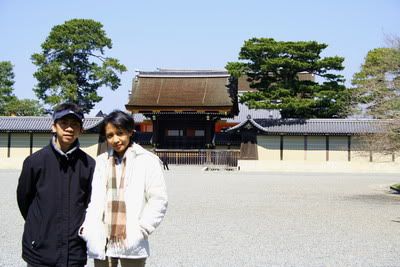 Kiyomizudera
, a big temple on top of a mountain. It has Love Stones. If you can touch both stones with your eyes closed, you'll have a very promising love life: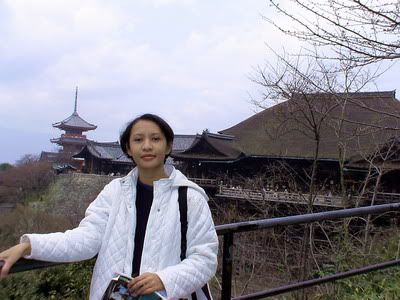 Kinkakuji
, the golden temple: See the sillhouete of the temple on the water!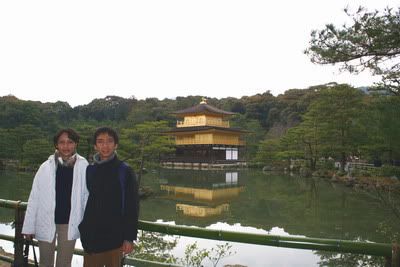 Me and a Japanese girl in Kiyomizudera: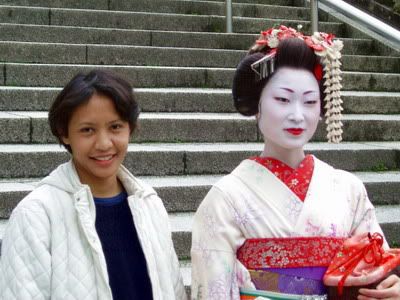 +Actually I wasn't sure about posing next to this girl. She surely looked stunning! Me?
Shut up!

Forget means You DON'T Remember
Since Kyoto is full of tourist sites, we really made time to go (almost) everywhere in the city. Then, we headed back home on the night of 27th, by bus (Oh, how I missed the Shinkansen despite what happened!). We took the bus from Kyoto Eki (station), and we had the chance to see Kyoto city at night from Kyoto tower.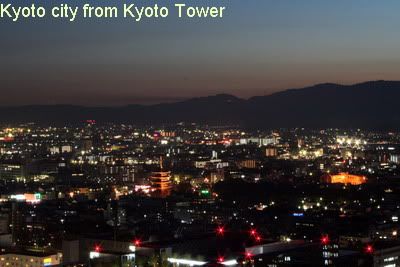 About an hour before we departed, Papap just remembered that he put the bus tickets in his other bag. It would be no big deal, except that that bag was inside our briefcase. And our briefcase was already sent to Honjo!
Thank God, we were in Japan, and we were allowed to take the initial bus without so much fuss. (
Yes, Pap, no hard feeling, but I still think it's silly
)
We arrived in Honjo the next morning. Safe and sound. Right now, I'm doing the writing of our trip to Kansai.
Soon, I promise,
the full story and pictures
will be
published in
the Journey
. Even though it's rather difficult these days since Hikari is at home 24-7 for Spring Holiday and Papap has been employed me as his typist for these last two weeks :(
*exhaling very-very deep breath*
Okay, guys, don't miss that story.
I'll tell you when, when it's ready :) Until then!
note
: thanks again to Tante Esti, Om Murdhi, Om Imtihan, Om Widi, and Om Puguh for the companion and the tour. We had a great time! When will you visit us in Honjo?
Specially to our Kyoto guide: Om Puguh, Hikari says Hi! :)