Saturday, February 25, 2006 by Mariskova
Remember when I wrote I wear my hair long and spiky and bushy and messy? That was yesterday!
Today, I cut my hair short!
What
?
Gak sengaja sebenernya, n gak direncanakan. Tadinya, gw emang bener-bener males pergi ke salon untuk potong rambut. N gw udah berniat mo manjangin rambut sampe Papap gerah dan mengultimatum (because that means it's his treat).
Nah, hari ini, ceritanya kita bertiga keluar seharian. Dimulai dari pagi, acara mem-vaksin Hikari yang diteruskan dengan berburu seragam kaos+celana panjang putih untuk school performance besok. Setelah mengubek-ubek tiga depato, kesandung diskon, n berhasil membawa pulang belanjaan lebih dari yang direncanakan (
kekeks
), kita akhirnya pulang juga. Hari udah sore banget, udah agak gelap, n udah dingin. Selagi nunggu lampu penyebrangan jalan di perempatan dekat depato terakhir yang kita kunjungin, Papap melontarkan ide:
Mau potong rambut 1000 Yen gak?
FYI, potong rambut 1000 Yen itu paling murah (yang gw pernah temukan) di Tokyo dan Honjo. Potong rambut seharga itu juga berarti: gak pake comfort, gak pake cuci rambut, gak pake ngobrol, apalagi massage. Bisa ditunjukin pintu keluar kalo kita minta massage di salon 1000 Yen! So, udah lah elu masukin duit seribu Yen ke slot machine, trus si mesin bakal kasih elu slip/kartu tanda terima. Elu tunggu giliran, n pas giliran elu tiba, elu duduk di kursi kerajaan, dan dengan singkat dan padat elu pesen potongan rambut yang elu mau (dengan catatan, gak pake bawel mo ini itu). Dalam jangka waktu 10 menit saja, proses potong rambut bakal selesai!
Wes, kembali ke proses potong rambut gw, out of the blue, gw kok langsung setuju. Adrenalin langsung meningkat, serasa mau arung jeram, ada tantangan gitu. Lagian udah beberapa lama, gw mo bawa Hikari potong rambut juga karena rambutnya juga udah panjang. Kemarenan, Papap gak ngasih kalo Hikari potong rambut ke salon, karena bliaw mau mengasah kemampuan potong rambutnya yang jujur aja... agak-agak menyedihkan. Sementara buat gw, 'Lah, anak kecil juga manusiaaaa'. So, sambil bilang oke, gw juga nawar: Hikari potong rambut juga ya?! N Papap setuju. Oke deehh..
Masuklah kita bertiga ke salon itu (more like barbershop). Ada dua pemotong rambut. Ibu-ibu in their late 40s.
Ouch
!
Si Papap udah langsung masukkin duit 2000 Yen. Di antrean depan kita, ada 2 orang nenek-nenek.
Waks
?! Dibelakang kita ada dua bapak-bapak.
Hih
?
Nenek pertama maju ke kursi pemotongan. Gila! Rambutnya dipotong abis, pendek, helm!!!
Nenek kedua mengalami hal yang sama.
Gw gemeteran. Sumpah. Gw bilang ke si babe, "Kalo aku gak jadi aja gimana?"
Babe monyong, "Udah bayar, tau! Masa' aku yg potong rambut?"
Gw ngelirik rambut babe, hehehe... rambutnya masih satu senti.
Yoss! Gw berdoa tambah kenceng.
Giliran Hikari. Ih, si ibu pemotong itu sama sekali gak pake basa-basi ngerayu anak kecil, bo! Bahkan Hikari yang sempet berulah gak mau, langsung diem takut karena liat tampang stern si pemotong...
Duh, gw makin gemeterrr... Mata gw langsung menyapu sekeliling ruangan. Ah, ada rak majalah! Gw buru-buru bolak-balik satu majalah. Majalah mana aja, yang penting ada gambar orang berambut!
Srrrttttt.......... Mana? Mana? Mana nih?
Di halaman terakhir ada foto Crown Princess Masako. Ada Bae Yong Jun. Pokoknya potong pendek. Gw makin nervous. Abis Hikari, giliran gw nih!
Yang mana? Mana?
Yah, Hikari selesai dipotong. Giliran gw. Gw duduk di kursi. Buka majalah.
"Mijikai, onengaishimasu." (short, please)
N jari gw menunjuk ke... Princess Masako.
10 menit selesai. How did I end up? Papap ketawa...
Dua orang ini dijadiin satu!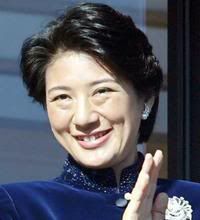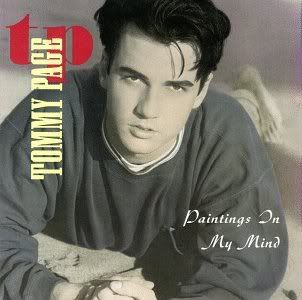 Daripada takut pergi ke dokter gigi, or ke dokter manapun, lebih parah takut pergi ke salon. Kayak gw. Ngeliat scissors untuk gunting rambut, bisa bikin gw nervous n panik. Ini lebih masuk akal. Pikir aja, kalo elu ke dokter/gigi, sesakit apapun, masih bisa ditutupin badan. Nah, kalo elu salah gunting rambut? Apa gak jadi aib sedunia seumur hidup?
Temen1: "Potong rambut dimana sih, lu, coy?"
Temen 2: "Kenapa? Ancur ya?"
Temen 3: "Iya. Parah amat. Itu model helm ato model batok kelapa?"
Temen 4: "Eh, tapi masih mending deh. Dari pada rambutnya si A waktu dia potong rambut setaon lalu."
Temen 1: "Ember. Helm n batok kelapa aja tersinggung disamain sama rambutnya si A!"
Kan!
pictures: google image