Monday, July 25, 2005 by Mariskova
This the most important place in Honjo for us. How can't it be? This is the place that issues all the elligibilities to stay in Honjo. It's a kind of Kelurahan and Kecamatan combined into one. Of course, it doesn't have all the 'culture' that our kelurahan and kecamatan has. It's surprisingly efficient and free from 'uang siluman' (gw sampe gak punya hati buat nulis the English wordnya). The people are very friendly, and the place is also child friendly: they provide toys for children. What I like best about this place is it never takes us more than an hour to get everything done! Besides, they keep our database in the office so that we don't have to bring all of our papers like birth certificate, visa, passp
ort, id card, etc. every time we have to go there. That surely will kill all the photocopy businesses around kelurahan and kecamatan, right?!
We went to this place a few weeks ago, actually. The last time is to renew our tax and insurance forms. Hikari likes to go to this place because it has a big pond full of golden fish and koi... That's why we always have to drag him every time we want to go home. And then he will go home in tears...
Well, here is Hikari posing with his fish: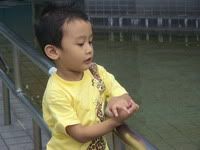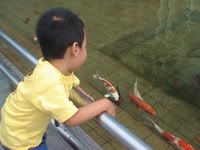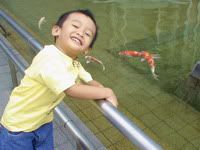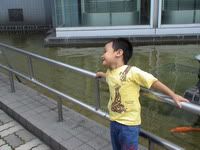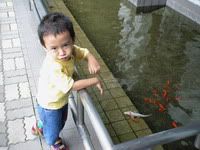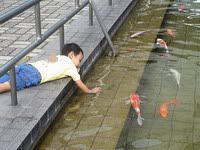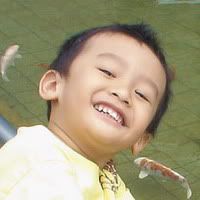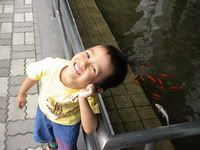 until Papap decides it's already late and we have to drag Hikari home... literally...